Products
The name:
laser application of glass
Model:

View Enlarge Image
Description:
Description: Laser drilling in borosilicate glass, hole by hole
Material thickness 500micron
Hole diameter: 400micron
Tact time: 20s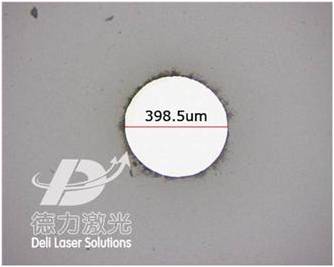 Laser cutting provides many benefits over alternative methods, a few of which are listed below.
· The edge finish is far superior when compared to a punched product
· Complex shapes can be cut without tooling
· Range of materials which can be cut
· Speed is normally faster than other profile cutting methods
Our continuous investment in the latest laser cutting technology brings you the most competitive pricing. Quotations are normally supplied within the same day with 24 hour turnaround service also available.
Almost any type of material can be micro-cut. Materials which can be machined include:
· metals: stainless steel, hardened steel, copper, aluminium, brass, tungsten, titanium
· ceramics: alumina, zirconia, machinable ceramics, green ceramics, PZT, silicon nitride, tungsten carbide
· super hard materials: diamond, silicon nitride, tungsten carbide
· plastics: polyimide, PTFE, PMMA, Kapton, Vespel, Cirlex, ABS
· glasses and crystaline materials: BK7, sapphire, fused silica
Previous Product:none